In today's world where information systems represent an essential tool for any business, data centres have become the protagonists of phenomenal growth.

This is the age of data. There are millions of devices connected to the internet, the number of which continues to grow rapidly. Enormous amounts of data are captured, measured and controlled in order to help improve operations, increase productivity, improve safety standards and search for cost effective solutions. IOT, artificial intelligence, data analytics and cloud storage are just some of the major drivers of the phenomenal growth of data centres.

TMC Transformers is a European company and a wide-reaching leader in the manufacture of medium and low voltage dry type transformers and reactors, both using cast resin and VPI technologies. All the products are perfect for distribution and special applications: two different souls combined under a single roof, to offer our customers the most suitable technology and service.

TMC produces dry type transformers and reactors across all applications and sectors, globally. These include buildings and infrastructure, traction substations, marine and offshore, oil and gas, renewable energy, battery storage, mining, and in particular, data centres.
The data centre application

TMC Transformers offers a comprehensive range of MV (distribution) and LV (isolation) dry type transformers, engineered specifically for use in data centres. Our knowledgeable and experienced engineers design solutions that are safe, highly-robust, efficient, environmentally sustainable and maintenance free: critical factors for such a demanding application. Amongst many important considerations, it's imperative that attention is given to factors such as load characteristics (non-linear loads with high harmonic content), transient voltages (frequent switching), noise control and management of leakage currents.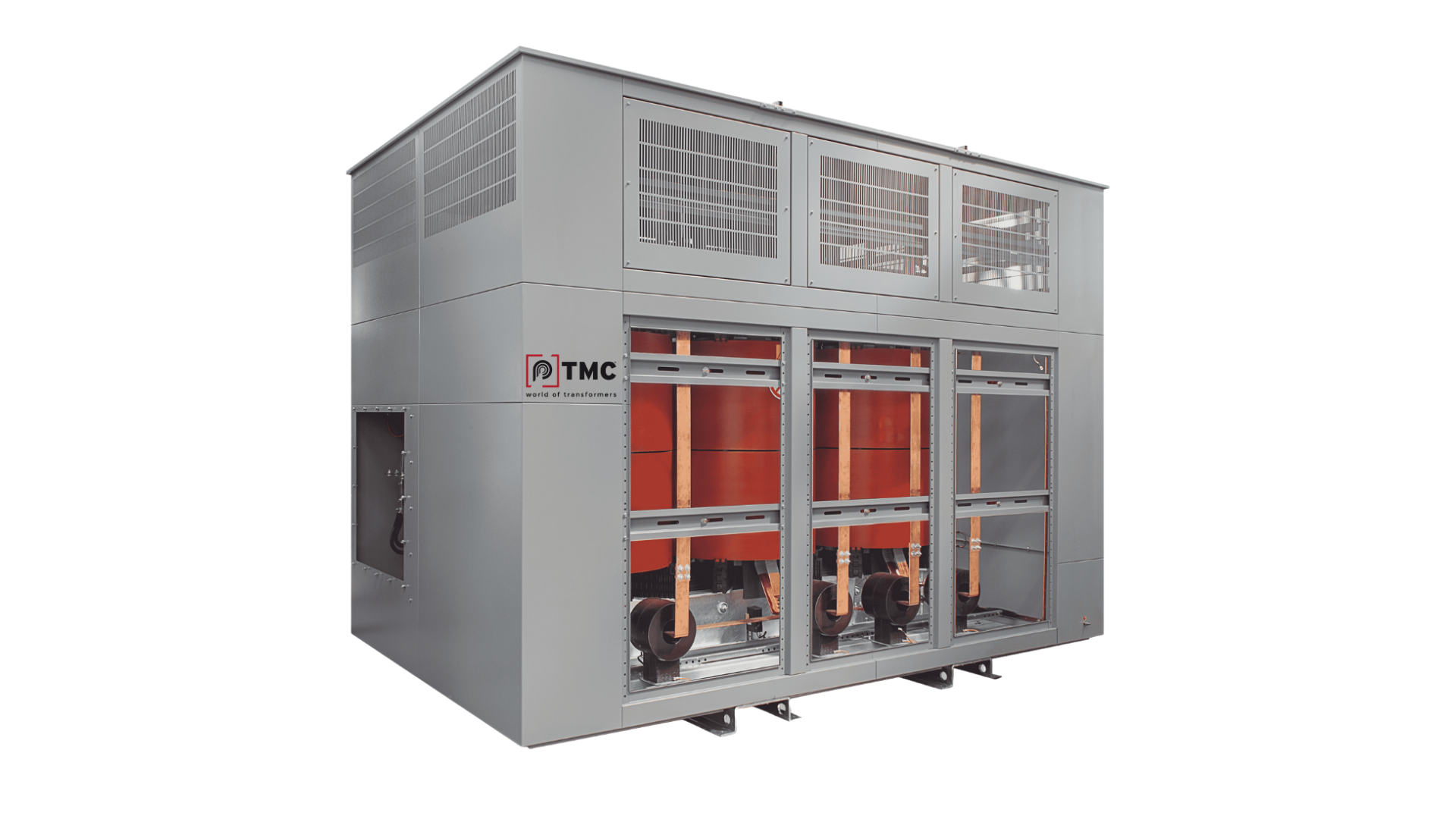 TMC Transformers range offers:

• Climatic Classification to E4-C5-F1: TMC is able to produce transformers resistant to harsh environmental conditions (condensation or heavy pollution), extreme temperatures (guaranteed performance to -60°C storage and -50°C ambient temperatures) and fire (the emission of toxic substances and opaque smokes shall be minimised)
• Advanced glass resin insulation systems
• Low losses to EU 548:2014 Tier 2
• K-Factor design to K-13
• Electro-static screens
• Enclosed solutions to IP67
• Advanced noise/vibration and surge suppression.
Furthermore, a critical issue often present in data centre applications is the lack of space. Thanks to its construction technology, TMC is also able to reduce the size of the transformers, without penalising the efficiency of the transformer itself. In this way, TMC guarantees an effective, efficient and, above all, practical product.

TMC Transformers ultimate solution:

The H-ART dry type transformer technology, developed by TMC Transformers SpA, is ideal for this application: an upgraded class H insulation system that is based on advanced resin technology combined with lower temperature rise, able to improve the performance of the transformer and the lifetime expectancy. This technology was developed specifically to cope with harmonic content, offer superior mechanical, thermal and dielectric strength and be highly efficient in operation. The space constraints within a data centre environment also makes the compact design of TMC Transformers the perfect solution.