Public cloud remains a popular choice for UK businesses looking to modernise and scale their applications. In our newly commissioned independent research, The Future of Hybrid Cloud, UK IT managers identified 12 ways that public cloud platforms support short- and long-term IT department and broader business goals.
Respondents spoke of improved security posture, more efficient IT team operations, less downtime, improved customer services and greener IT infrastructure. These are all important goals, especially in a challenging global business climate where companies must extract every bit of operational efficiency.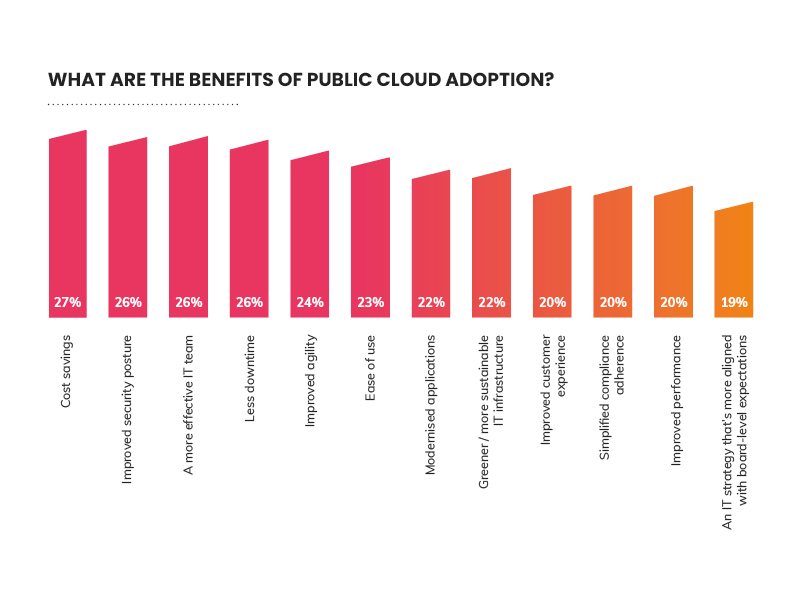 But despite its benefits, public cloud isn't a one-size-fits-all solution. At the time of compiling this report, most respondents were running between a quarter and a half of their business applications on public cloud platforms. Looking further into this trend, we found over four in ten UK organisations using public cloud technology still have production workloads running on company-owned hardware. All this, despite the fact that over 40% of respondents had migrated their first production workload three or more years ago.
Are some business applications unsuitable for public cloud platforms?
If public cloud platforms deliver so many benefits, why haven't businesses migrated a higher percentage of their business applications? And why are they still making such extensive use of non-cloud technologies?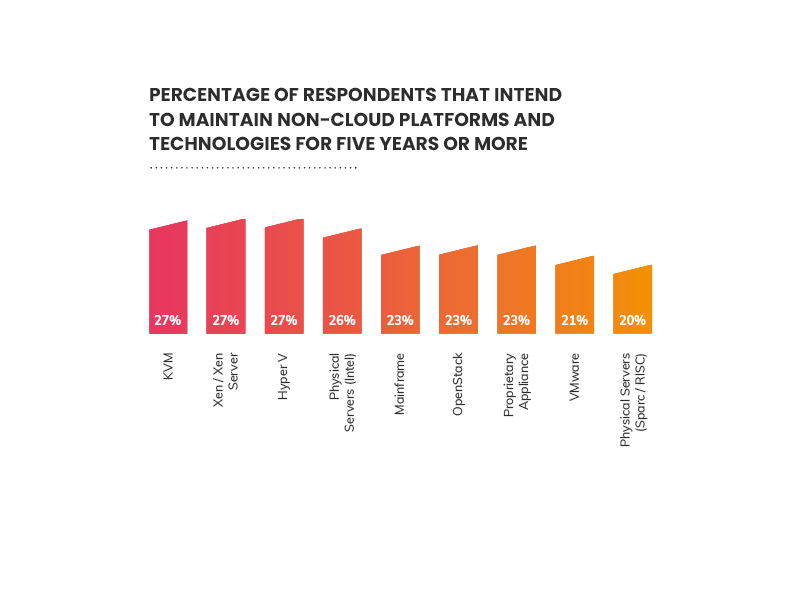 Our research lends credence to the suggestion that some production workloads are unsuitable for public cloud platforms — often through no fault of the public cloud service provider. Workloads or applications might be particularly susceptible to latency, subject to specific compliance legislation, or they could considerably pre-date public cloud technology. Cost, however, seems to be one of the most significant issues: over half of respondents told us their public cloud environment was more expensive to operate than they initially forecasted. Furthermore, cost was one of the three main reasons given by respondents for migrating a workload back off a public cloud platform.

Planning for long-term hybrid cloud usage
The current and forecast use of public cloud and non-cloud technologies means that hybrid cloud usage (public cloud plus at least one other infrastructure type) is here to stay. But our research shows a lot of UK businesses are struggling to manage their hybrid cloud environments and will need additional support.
Our findings suggest that businesses may be reticent about adopting more formal, long-term hybrid cloud strategies. A quarter still consider hybrid cloud to be an interim solution while applications are modernised. This may well be because of perceived complexities around integrating and managing multiple platforms.
Yet respondents are certainly aware of the advantages that a well-managed hybrid cloud environment can deliver. They pointed to the ability to retain existing infrastructure and assets, the opportunity to support applications that don't suit public cloud platforms and to meet latency, edge and performance issues.
Thinking back to earlier in the report, these are all critical issues that respondents encountered with their public cloud environments. Yet, without a change in direction and planning, businesses could end up operating hybrid cloud environments without the necessary formal long-term planning, in-house skills, and IT partner support to make the scenario work in their favour.
Looking ahead
If there's one key takeaway from our research, it's that businesses are increasingly in need of a simple, effective, and reliable way to enable their non-cloud workloads and infrastructure to benefit from public cloud functionality.
Tools such as Azure Stack HCI and Azure Arc could offer just this kind of solution. They have the potential to meet some of the core hybrid cloud management challenges that respondents identified — providing centralised management, compliance, and security alongside the ability to run PaaS services outside of the public cloud — and to create a unified, manageable hybrid cloud environment.
Looking to the future, with the right help and support, we're confident that companies should be able to take full advantage of a hybrid cloud strategy and benefit from all the advantages they were promised at the outset of their public cloud deployments — such as unified security, backup and recovery, update management, file syncing and monitoring without requiring any further public cloud migrations.