DapuStor and Hyperscalers have teamed up to create the fastest SDS solution currently available on the market, bringing the power of SSDs to a realm of new customers that require fast access to critical data.
Software Defined Storage (SDS) has become the default approach for the provision of flexible, available, performant, and secure storage resources in the context of contemporary solution architectures. However, delivery of faster performance is always needed.
Currently, industry mainly uses Hard Disk Drives (HDDs) as a storage medium, but many data processing and analysis applications nowadays require higher-performance storage platforms. With Solid State Drives (SSDs) that have emerged in recent years that can provide performance far higher than HDDs, Hyperscalers and DapuStor have now partnered to launch a Ceph platform that uses state-of-the-art DapuStor Roealsen5 eSSDs as the storage medium, aiming to meet customers' needs for high-performance and large-capacity storage platforms.
This combination of elements has yielded the fastest SDS solution available in the marketplace, which the creators have called ZSDS.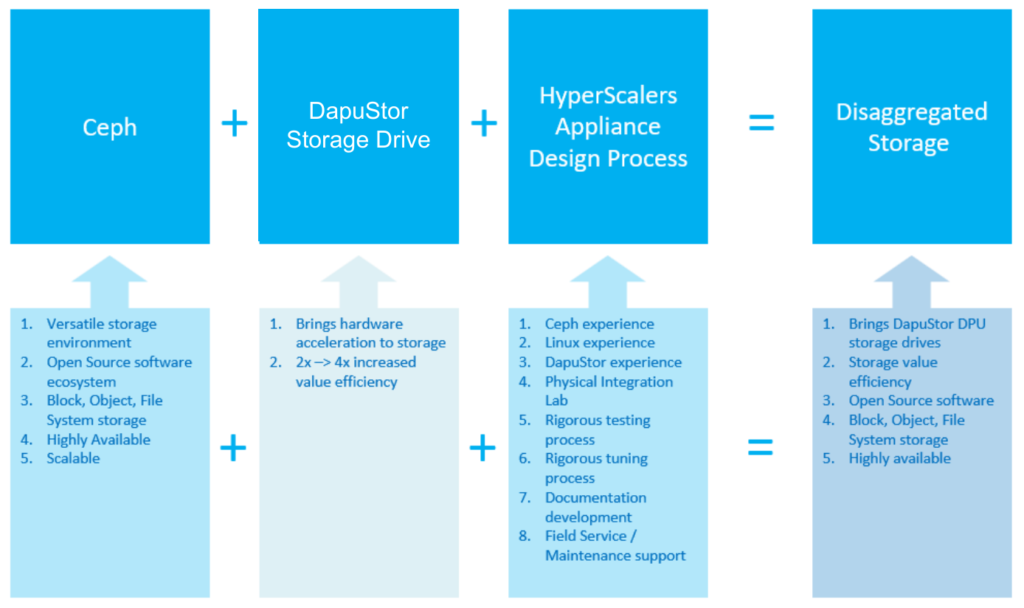 As John Li, VP of Sales and Marketing of DapuStor explained, "Ceph is the core part of the entire solution. We chose Ceph because it is widely used by customers, has open interfaces, and can be applied in various scenarios, including block storage, file storage, and object storage.
"ZSDS takes Ceph capabilities and places them on top of blazingly fast NVMe storage drives created by Dapustor. The SDS platform speed is derived from the use of all-flash NVMe, Ceph, and end-to-end fine tuning implemented by engineers from Hyperscalers and Dapustor.
"We have worked together on an extensive fine-tuning effort to optimise ZSDS for absolute performance, including optimisation of numerous critical CPU and network layer attributes, in addition to software stack qualification."
"The beauty of ZSDS is that it is applicable to any organisation that shares the need for fast access to critical data.
"ZSDS can be applied in any field that requires high-performance and large-capacity storage systems, such as big data analysis, high-performance computing, chip design and simulation, multimedia, as well as large-scale AI modelling. In such cases, storage systems are required to process large amounts of data quickly, sometimes in real-time.
"We envisage SMEs, multinationals, academic institutions, developers, financial services, and government organisations all being able to benefit from the unique capabilities of ZSDS."
How can ZSDS benefit different types of organisations?
SMEs
ZSDS provides scalable and reliable data storage for object, block and file storage, without the need for the investment in expensive hardware.
Global organisations
ZSDS can be configured to maximise the value of geographically distributed data centres to deliver highly available, resilient data. By placing relevant organisation-wide data physically at the regional locations where it is needed, your people and processes can be empowered in ways that may not have otherwise been easily possible.
Academic institutions
The extensive customisation capabilities of ZSDS enable tailored data curation and management control, in turn supporting the collection of both unstructured and structured data at scale and reliable backups of your research for secure, robust data storage.
Start-ups
ZSDS makes it easy to purchase only what you need initially and to scale on demand later. This means that you can quickly adjust your cluster balance as you add, replace or remove storage media. If your start-up business experiences sudden exponential growth, ZSDS will grow your cluster right alongside you with no license renegotiation needed.
Developers
The open-source adaptability inherent in ZSDS is perfect for inclusion into your own software environment and architecture, supporting unimpeded experimentation with cloud hosted services and/or operations across large volumes of block, file and object data.
Financial Services
Modern financial services companies are heavily reliant on storage systems to capture, store and process event information in some cases at staggeringly high speeds. This is particularly true within the new breed of Fin-tech style operations where speed and scale flexibility are paramount. ZSDS can help to maximise the cost-performance reliability equation that is critical within these environments.
Government
Nowhere is the need for cost-optimised, flexible and fast access to large quantities of data more apparent than in the context of government organisations handling critical data relating to an entire population. ZSDS can provide not only the capacity and performance benefits discussed here but also the reliability, maintenance and support services that are always required by government users.