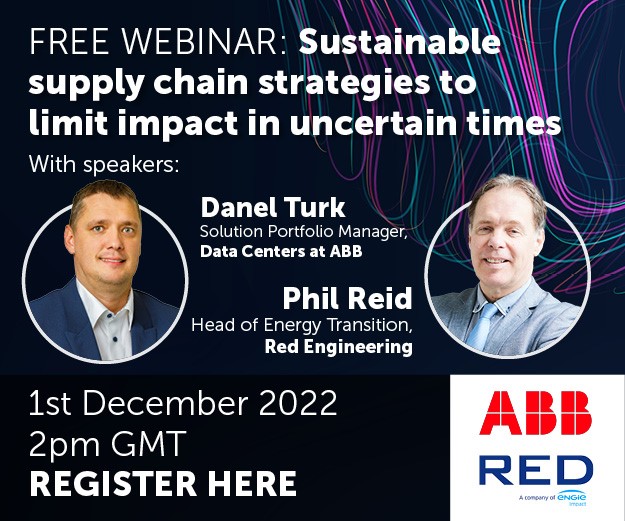 Sustainable supply chain strategies to limit impact in uncertain times – ABB & Red Engineering Webinar
1st December 2022
In addition to the unprecedented growth in internet usage and data processing since the beginning of the pandemic, data center clients have been managing even more complicated  challenges involving global supply shortages and labor shortages.  While there is no one solution to address all of these complexities, there are many new emerging strategies for success including:
Innovative supply chain strategies to reserve production space, speed engineering time and production time.
Advancements in technology and sustainable solutions to reduce power usage and lower our reliance on carbon energy sources.

Labor strategies to lower site labor requirements, leverage digital solutions to limit wiring and connections for speed in installation and commissioning and even advanced immersive augmented reality solutions to help workers troubleshoot issues in real-time.
Join Data Centre Review, ABB and Red Engineering as we discuss new strategies to succeed in today's unique and challenging environment.
Speakers
Danel Turk

Solution Portfolio Manager, Data Centers at ABB

Danel studied electrical engineering in Tallinn Technical University, Estonia, specializing in electrical grids, medium and low voltage and power generation.

Danel has worked at ABB for almost 20 years in various global roles focused on supporting new technologies and industries.

He started out in product management, gaining 10 years experience in portfolio management and launching new products.

For the last 5 years, Danel has been leading on new technologies and fast growing segments for ABB including solar, eMobility, energy storage and data centers.

Phil Reid

Head of Energy Transition, RED

Phil graduated as a chemical engineer with more than 35 years' experience in the oil & gas, industrial and built environment sectors working on projects in Latin America, the Middle East and throughout Europe.

Phil is a Chartered Engineer and a corporate member of CIBSE and the Energy Institute, with particular expertise and mechanical engineering, being involved in the sustainable design of large and mission critical buildings

His role in Red is to bring innovative technologies to the data centre market combined with expertise in engineering services to provide realistic roadmaps to Zero Carbon buildings in conjunction with integrated energy, water and waste utilities infrastructures connected to renewable energy and emerging circular economy technologies.