Quite literally, as the data centre power market in Europe is expected to surpass $5bn by 2026.
According to a recent study from Graphical Research, the European data centre power market size is poised to expand at substantial CAGR during the forecast period.
Strong demand for data storage with growing adoption of cloud computing and big data will boost Europe's data centre power market forecast.
The research also showed a surge in the construction of new data centres, riding the wave of demand for smart power devices to minimise power use and energy costs.
A compelling rise in internet users has also been a catalyst for industry players to further the adoption of storage and network devices.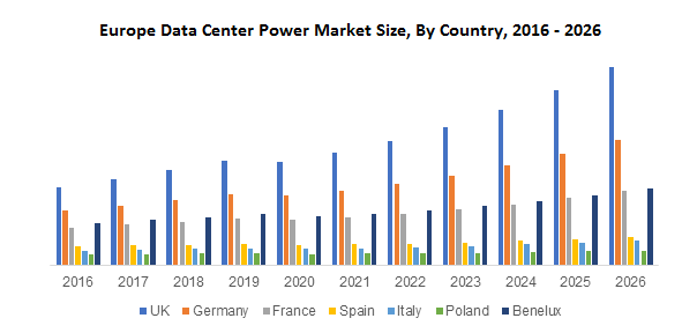 According to Cisco Systems, IP traffic in Central and Eastern Europe had touched 17.0 Exabytes per month in 2020, a rise from 5.2 Exabytes per month in 2015. Notably, operators have upped the implementation of smart power systems to minimise the power usage efficiency (PUE) ratio and augment energy consumption.
As a result of the Covid-19 pandemic, the market may grow faster than predicted owing to soaring demand to propel security, IT performance and flexibility across the European data centre power market region. This changing preference towards UPS and cabling infrastructure has made data centre power service a lucrative proposition.
Online media streaming and online gaming predictably garnered exceptional traction in countries severely affected by the coronavirus outbreak. For instance, Amazon Prime Video installations were up 101%, while the Netflix mobile app witnessed a 60% rise in installation in Italy in February 2020.
An uptick in data consumption has of course expedited the demand for data storage too, encouraging organisations and enterprises to invest in data centre power services. According to an estimate, the European data centre power market size could exceed USD five billion by 2026.
As mentioned above, flourishing demand for reliable and effective equipment has driven the demand for cabling infrastructure.
The growing impetus towards cable management products is attributed to easy installation and modular designs.
Leading manufacturers are striving to reduce operating expenses through the launch of advanced cable management solutions. The cabling infrastructure data centre power segment is forecast to capture a considerable share of the Europe market by 2026.
The aforementioned need for UPS components is also poised to add fillip to data centre power segment with increasing construction of mega data centres.
To illustrate, Google LLC. had announced an investment of USD 3.3 billion in September 2019 to bolster its penetration across Europe over the next two years. With the demand for uninterrupted supply for relentless data transmission soaring, the UPS systems will render reliable backup to storage devices and servers amidst outages in hyperscale data centres.
The IT and telecom sector is also expected to emerge as an attractive domain on the heels of the launch of 5G network services in Italy, Germany, France and Denmark.
With the demand for advanced technologies such as IoT, edge computing and 5G rising, an efficient data power system has become pivotal to bolster the reliability of data centre facilities.
Demand for data centre power solutions will also be noticeable in the BFSI application following the awareness of the upsides of online banking activities.
Financial institutions seek reliable and efficient power solutions to streamline business through scalability and minimising system downtime. The BFSI (banking, financial services and insurance) data centre power segment is projected to observe a robust CAGR through 2026, attributed to a shift towards cloud computing.
Overall, the European data centre power market a highly competitive space, rife with solution providers focusing on innovative solutions, product launches, mergers and acquisitions and collaborations, with a newfound emphasis on cost-effective data centre solutions with improved security and flexibility to boot.